Daba Sleeve Type Central Drum Imperssion 4 Colors Flexographic Printer , Flexo Printing Aseptic Line
Introduce sensitization resin as flexible printing plate. It is a kind of ideal printing equipment for producing paper packing bag for good, supermarket handbag, vest bag and clothes bag,etc. Printing materials as following: 1.Polyethylene, polyethylene plastic film printing 2.Bag(packing bag for food, supermarket handbag, vest bag and clothes bag printing 3.Roller paper and craft paper printing 4.Pp woven bag , pvc film, bopp film, printing 5.Laminated bag rolling printing 6.Non woven rolling printing 7.Rice bag pp woven printing 8.Paper printing
---
Message
Introduction
Introduce sensitization resin as flexible printing plate. It is a kind of ideal printing equipment for producing paper packing bag for good, supermarket handbag, vest bag and clothes bag,etc. Printing materials as following: 1.Polyethylene, polyethylene plastic film printing 2.Bag(packing bag for food, supermarket handbag, vest bag and clothes bag printing 3.Roller paper and craft paper printing 4.Pp woven bag , pvc film, bopp film, printing 5.Laminated bag rolling printing 6.Non woven rolling printing 7.Rice bag pp woven printing 8.Paper printing
Note:Different printing material , machine some parts design different. Pls kindly show Printing material when inquiry.
Main Features & Advantages
1.After mounting the plate and registration,no longer need registration,improve yield.
2. Replacing 1 set of Plate Roller (unloaded 6pcs old roller,installed six new roller after tightening),only 20 Minute registration can be done by printing.
3. The machine first mount plate,pre-trapping function,to be completed in advance prepress trapping in shortest possible time.
4. Maximum production machine speed up 200m/min,registration accuracy ±15mm.
5. The overlay accuracy does not change during lifting running speed up or down.
6. With precision structural,easy operation,easy maintenance,high degree of automation and so on,one person can
operate.
7. HUICHUAN brand Servo motor for unwinding and rewind.
Technical Parameter
Model

NXS8-600

NXS8-800

NXS8-1000

Printing color

8 colors

Printing materials

Paper ,film,non-woven fabric,aluminum foil

Max.Material width

600mm

800mm

1000mm

Max.Printing width

560mm

760mm

960mm

Max.printing length

300-800mm

Printing cylinder way

Hydraulic control up and down

Drive Type

Big center Roller drive

Machine speed

200m/min

Max. running speed

150m/min

Unwind/rewind dia.

∅1000mm/∅1200mm

Unwind/rewind way

Center unwind; Servo motor for rewind;

Printing way

Full width on one side

Anilox roller

Ceremic anilox roller 6pcs:shanghai murata brand 200-800LPI

Chamber doctor blade 6pcs with two diaphragm pump 6

Tension system

Automatic tension controller with magnetic powder brake

EPC

Web guide 1pc

Register precision

Longitudinal:±0.15mm crosswise:±0.15mm;

Color register

By motorized (left and right,up and down)

Dry system

Electric heating

PLC human touch screen

1set,China famous Inovance brand

Image inspect system

1set,China famous kesai branad

Machine power

75kw

78kw

80kw

Total weight

8000kg

8500kg

9000kg

Machine Size(L×W×H)

9×1.4×2(m)

9×2.1×2.5(m)

9×2.3×3.0(m)

Machine Also can made as client requirement.

If you need other width Size or high speed machine, pls kindly contact us directly.
Optional Parts
| | |
| --- | --- |
| 1.Various size of Printing cylinder | 5.Half width Double sided printing |
| 2.Double unwinder/rewinder | 6.CI Drum with water Cooling System |
| 3.Automatic pneumatic loading | 7.Water cold cooling machine |
| 4.Automatic pneumatic unloading | 8.Shaftless for unwind |
Details Images:
Register
Color register by motorized (left and right,up and down).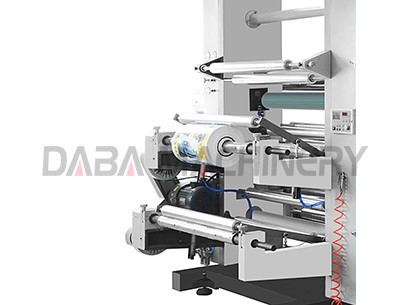 Unwinder and Rewinder part:
Double manual unwinder and rewinder :the rewinder is with pressure roller.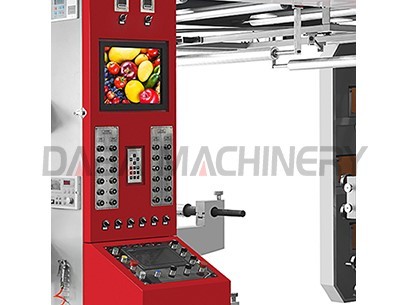 PLC and Camera
Printing part
Closed chamber: to make speed faster and the ink never splashs.
Ceramic anilox roller to make the finished samples more accurate.
Central roll : plate roller and traction roller and anilox roller on the central roll to work together.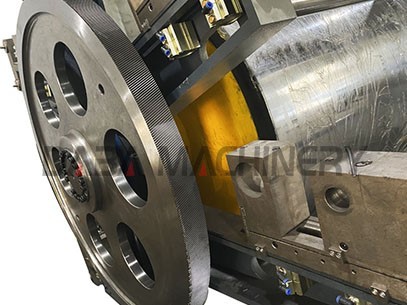 Transferring part
Drying part:
The oven length is 3.7 meters , all printing part is heat wind circulating.
Printed Samples: