Introduction
Introduce sensitization resin as flexible printing plate. It is a kind of ideal printing equipment for producing paper packing bag for good, supermarket handbag, vest bag and clothes bag,etc.
Printing materials as following:
1.Polyethylene, polyethylene plastic film printing
2.Bag(packing bag for food, supermarket handbag, vest bag and clothes bag printing
3.Roller paper and craft paper printing
4.Pp woven bag , pvc film, bopp film, printing
5.Laminated bag rolling printing
6.Non woven rolling printing
7.Rice bag pp woven printing
8.Paper printing
Note:Different printing material , machine some parts design different. Pls kindly show Printing material when inquiry.
Main Features & Advantages
1.Machine form: use big gear drive and register color the color more accurate.
2.The structure is compact.The parts of the machine can interchanges standardization and easy to get.And we choose low abrasion design.
3.The printing cylinder is really simple.It can save more time and cost less.
4.The printing pressure is smaller.It can decrease the waste and make service life longer.
5.Print many kinds of material include various thin film rolls.
6.Adopt high quality ceramic anilox roller to increase the printing effect.
7.Adopts imported electric appliances to make the electric circuit control stability and safety.
8.Machine frame:75MM thick iron cast.No vibration at high speed and have a long service life.
Technical Parameter
Model

NXC2-600

NXC2-800

NXC2-1000

NXC2-1200

NXC2-1400

Max. Material width

600mm

800mm

1000mm

1200mm

1400mm

Max. Printing width

560mm

760mm

960mm

1160mm

1360mm

Printing color

2 colors ( PC : 2+0 , 1+1 )

Printing length

191-1200mm

Printing cylinder way

Hydraulic control up and down

Mechanical speed

100m/min

Printing speed

80m/min

Anilox roller

Metal:100-300LPI / Ceramic: 200-800LPI

Register precision

Longitudinal:±0.25mm; crosswise:±0.25mm

Unwind/rewind dia.

Φ800mm

Dry system

Electric heating

Machine weight

1800kg

1900kg

2000kg

2100kg

2200kg

Machine power

10kw

12kw

14kw

15kw

16kw

Machine size

(L x W x H)

2.7×2×2.3m

2.7×2.2×2.3m

2.7×2.4×2.3m

2.7×2.6×2.3m

2.7×2.8×2.3m

Machine Also can made as client requirement.

If you need other width Size or high speed machine, pls kindly contact us directly.
Optional Parts
1.Various size of Printing cylinder
2.Double unwinder/rewinder
3.Automatic pneumatic loading
4.Automatic pneumatic unloading
5.Crane:Manual or electric
6.Ceramic Anilox Roller
Details Images: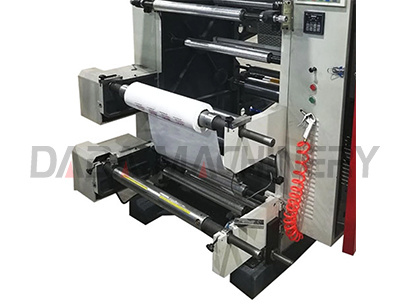 Unwinder and rewinder part:
Manual single Unwinder and rewinder ,with 76 mm air shaft.
Auto magnetic brake 5 kg for both unwinder and rewinder.
With auto tension and EPC for unwinder.
With auto tension for rewinder.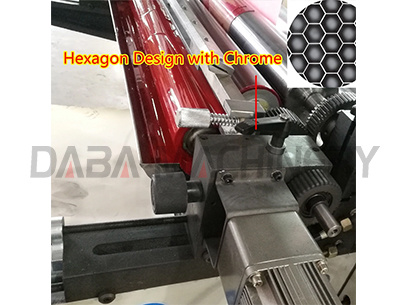 Printing and transferring parts:
Two sets ink pumps , controlled by ink motor , the ink is circulating , it will never dry.
With single doctor blade and metal anilox roller.
Anilox roller is hexagon design with hard chrome.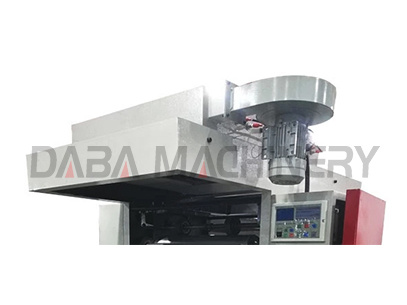 Drying part:
The oven length is 0.5 meters , the ink will dry very faster.
Printed Samples: