Introduction
Introduce sensitization resin as flexible printing plate. It is a kind of ideal printing equipment for producing paper packing bag for good, supermarket handbag, vest bag and clothes bag,etc.
Printing materials as following:
1.Polyethylene, polyethylene plastic film printing.
2.Bag(packing bag for food, supermarket handbag, vest bag and clothes bag printing.
3.Roller paper and craft paper printing.
4.Pp woven bag , pvc film, bopp film, printing.
5.Laminated bag rolling printing.
6.Non woven rolling printing.
7.Rice bag pp woven printing.
8.Paper printing.
Note:Different printing material , machine some parts design different. Pls kindly show Printing material when inquiry.
Main Features & Advantages
1.Easy operation,flexible starting,accurate color register.
2. The meter counter can set printing quantity according to the requirements. Stop the machine automatically at the quantity or when the material is cut off.
3. Pneumatic operation printing cylinder lift and lower,is will stir the printing ink automatically after lifting.
4. The printing ink is spread by the anilox cylinder with even ink color.
5. Reliable drying system coordinated with high-speed rotation,it will automatically break circuit when the machine stops.
6. 360°continuous and adjustable longitudinal register device.
7. The frequency control of motor speed adapts to different printing speeds.
8. There are Jogging/Stopping buttons on the plate roller base and material rolling rack so as to make it easy operate the machine when the plate is installed.
Technical Parameter
Model

DBZ6-600

DBZ6-800

DBZ6-1000

DBZ6-1200

DBZ6-1400

DBZ6-1600

Max. Material width

600mm

800mm

1000mm

1200mm

1400mm

1600mm

Max. Printing width

560mm

760mm

960mm

1160mm

1360mm

1560mm

Printing length

190-1060mm

Drive type

Straight gear drive

Printing cylinder lift

Pneumatic control up and down

Mechanical speed without material

80m/min

Max. running speed

60m/min

Plate Thickness

2.38mm (Both side adhesive tape included)

Anilox roller

Metal anilox roller:100-300LPI

Unwind/rewind Diameter

Φ600mm

Drying way

Electric heating

Machine power

20kw

22kw

24kw

25kw

26Kw

28kw

Overall Dimension

4.5×1.8×2.8m

4.5×1.9×2.8m

4.5×2.1×2.8m

4.5×2.3×2.8m

4.5×2.5×2.8m

4.5×2.7×2.8m

Machine Also can made as client requirement.

If you need other width Size or high speed machine, pls kindly contact us directly.
Optional Parts
1.Automatic tension control
2.Web guide
3.Air shaft
4.Various size of Printing cylinder
5.Double unwinder/rewinder
6.Automatic pneumatic loading
7.Motor register-up and down , left and right
Details Images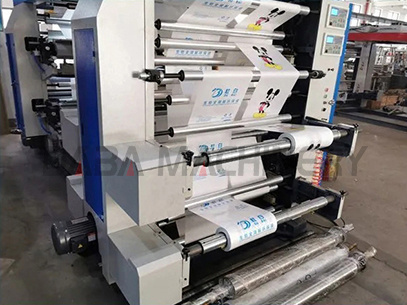 Unwinder and rewinder part
Manual single Unwinder and rewinder ,with 76 mm air shaft.
Auto magnetic brake 5 kg for both unwinder and rewinder.
With auto tension and EPC for unwinder.
With auto tension for rewinder.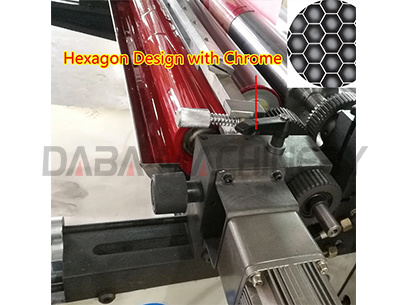 Printing and transferring parts
Four sets ink pumps , controlled by ink motor , the ink is circulating , it will never dry.
With single doctor blade and metal anilox roller.
*Anilox roller is Hexagon design with Chrome.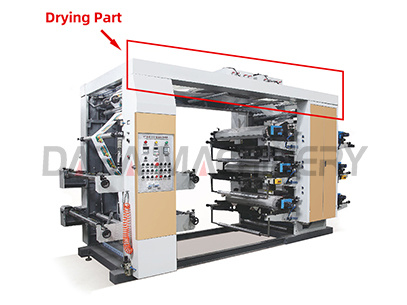 Drying part
The oven is heat air circulating and all printing groups are heat air circulating.
Printed Samplesas follows